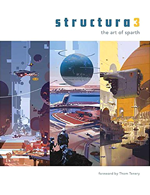 Concept artist Nicolas Bouvier, a.k.a. Sparth was kind enough to share some of his concept art pieces featured in Structura 3: The Art of Sparth a follow up to Structura and Structura 2.
This book will showcase not only his professional and personal work, but will also include tips of the trade and step-by-step tutorials.
His list of work include video game titles such as Halo 4, Assassin's Creed, RAGE and Prince of Persia. Sparth is currently working as Art Director on Halo 5: Guardians.
Link: Design Studio Press | Amazon
All images used with permission by the artist. © Nicolas Bouvier/Sparth or their respective copyright holder.