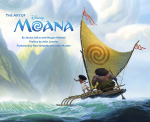 Character animator and designer Bobby Pontillas has posted of the character concepts he created for Disney's Moana.
After animation wrapped on Big Hero, I had the opportunity to help out with design on Moana. One of my assignments was to design the village kids from her island of Motunui.
Be sure to check out more Moana concept art featured in the art book, The Art of Moana.
Link: Tumblr
All images © Disney.