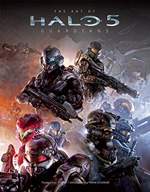 Concept artist and designer Sam Brown has posted some of the concept artwork and designs he created for Halo 5: Guardians. Sam is currently working as a concept artist for video game developer 343 Industries.
Be sure to check out more of his concepts and designs for Halo 5: Guardians featured in the art book, The Art of Halo 5: Guardians.
All images used with permission by the artist. © Microsoft Corporation. All Rights Reserved.