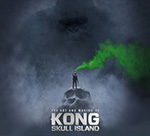 Freelance concept artist and illustrator Dennis Chan has released some of the concept art he created for Kong: Skull Island, which will be part of Legendary Pictures' MonsterVerse.
To see more concept art for Kong: Skull Island be sure to order your copy of The Art of Kong: Skull Island now available at Amazon.
Link: Website
All images © Legendary Pictures.