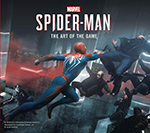 Freelance concept artist and illustrator Dennis Chan has posted some of the concept and keyframe art he created for Marvel's Spider-Man PlayStation 4 game, while working with Insomniac Games.
Be sure to check out more concept art and designs featured in the book, Marvel's Spider-Man: The Art of the Game.
Link: Website
All images © Marvel/Sony Interactive Entertainment LLC.