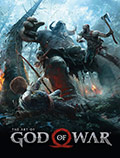 Santa Monica Studio and Sony Interactive Entertainment have released several concept art pieces for their highly anticipated PlayStation 4 exclusive game, God of War. Be sure to check out more concept art, designs and illustrations featured in the art book, The Art of God of War.
"The Art of God of War is an intimate chronicle of the years-long odyssey to bring Kratos and Atreus' beautiful and brutal world to life. Step into Midgard and explore beyond, as Dark Horse Books and Santa Monica Studios are pleased to offer the quintessential companion to the enormously anticipated God of War. This is a tome unlike any other, including an expanse of gorgeous art and in-depth interviews that set readers on an exhaustive behind-the-scenes journey to witness the creation of an epic of tremendous scale."
This 184 page hardcover art book is published by Dark Horse Books and is currently available at Amazon.
All images © Sony Computer Entertainment America LLC.