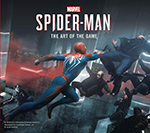 Illustrator and concept designer Julien Renoult has posted some of the early visual development art he created for Marvel's Spider-Man PlayStation 4 game developed by Insomniac Games.
Check out more concept art and designs featured in the art book, Marvel's Spider-Man: The Art of the Game.
All images © Marvel/Sony Interactive Entertainment LLC.