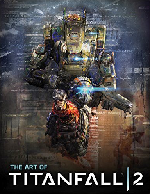 Concept artist and illustrator Hethe Srodawa has posted some of the concept artwork he created for Respawn Entertainment's Titanfall 2. Hethe has also worked on video game titles such as Red Dead Redemption 2, Grand Theft Auto V, Defiance, MaxPayne 3 and L.A. Noir.
Be sure to check out more Titanfall 2 concept artwork featured in the art book, The Art of Titanfall 2.
Link: www.hethe.com
All images © Respawn Entertainment.