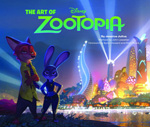 Concept artist and illustrator Cory Loftis has posted some of the great concept artwork he created for Disney's Zootopia. Cory is currently working as a Visual Development Artist at Walt Disney Animation Studios.
To see more concept artwork for Zootopia be sure to get your copy of the art book, The Art of Zootopia.
All images © Disney.